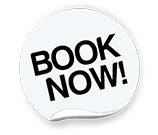 For Booking | +91- 9712699797
Travel Guide
Travel Guide
Temples and places around Dwarka
Dwarkadhish Temple
Madhavraiji Temple
Lakshminarayan Temple
Devakiji Temple
Shankaracharya Math
Bhadkeshvar Mahadev Temple
Chhappan sidhi
Sankirtan Mandir
Maha Prabhuji Baithak
Indreshwar Temple
Gomati Ghaat
Sangam Narayan Temple
Chakranarayan Temple
Bhadrakali Temple
Kashivishvanathji Temple
Rukmaniji Temple
Baldevji Temple
Vasudevji Temple
Devakiji Temple
Siddheshvar Mahadev Temple
Temples and places around Dwarka
1.
Bet Dwarka
A twenty minute ferry ride from the port town of Okha, takes one to the island of Bet Dwarka, where Lord Krishna was supposed to have met his friend Sudama. Dotted with many temples of religious significance, the island also has immense historical heritage with excavations revealing it to be a center of Indo Roman trade many centuries ago.
2.
Nageshwar Jyotirlinga
This powerful jyotirlinga symbolizes protection from all poisons and those who pray to the Nageshwar therefore become poison free. It is among of 12 jyotirlingas.
3.
Gopi Lake
Gopis used to take bath in this lake so its called gopi talav. the red mud aroundt the lake is called `Gopi Chandan'. It is included into dwarka darshan. The main attraction of the gopi lake is Mahaprabhuji bethak.
4.
Shree Rukmaniji Mandir
The char dham yatra is considered incomplete without visiting this Shree Rukamaniji Temple.Rukmini temple is located 2 kms away from Dwarka's Jagat Mandir.
5.
Harshidhi Temple
The temple is situated on the top and bottom of Koyla Hill. Harsidhi Matatji is also known as Ambica Mataji and Kalki Mataji. The local people call her Harshad Mata.
6.
Porbandar
Porbandar pronunciation is a coastal city in the Indian state of Gujarat, perhaps best known for being the birthplace of Mahatma Gandhi. The famous places of porbandar are Sudama temple, Bharat mandir, Tara mandir, Kirti mandir etc.
Best time to visit Dwarka
The best time to visit Dwarka is in the winter months between October to March when the weather is pleasant and temperatures range from 20 to 28 degree centigrade. Dwarka is visited by religious travelers throughout the year. During summers the highest temperature reaches 40 degrees centigrade, so don't forget to pack your sunblock and carry water bottles to beat the heat.
Summer
Summer
Summer in Dwarka exists from March to June. The season is very warm with a temperate climate. The temperature in summer between 23 degree C and 42 degree C. Summer is perfect for sightseeing, temple visiting and exploring the near by places.
Monsoon
Monsoon
Monsoon in Dwarka exists from June to September. It is accompanied with medium shower and hence the climate becomes very humid. The days are amusing and the nights are quite cold. You can enjoy the aggressive mood of sea in the season.
Winter
Winter
Winter exists from November to February. The maximum temperature reaches up to 34 degree C and the minimum temperature recorded in the season is 9 degree C. The climate is usually cool and pleasant. It is the best season to visit Dwarka.